Janusz Pajda, the owner of PPH Pajda runs a fruit farm of 25h located in Posiadały village. The orchard was planted in 1979. The farm has been granted an IPO certificate.
We produce the modern varieties of apples, such as: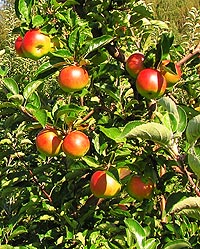 GALA MUST,

SZAMPION,

JONAGOLD,

JONAGOLD DE COSTA,

JONAGORED,

LIGOL,

RUBIN STAR,

GLOSTER (GLOUCESTER),

LOBO,

CORTLAND,

DELIKATES,

PAULARED;
pear varieties that we grow include:
LUKAS PEAR,

CONFERENCE,

CAROLLA;
plums:
CACANSKA LEPOTICA,

CACANSKA NAJBOLIA,

AMERS,

EMPRESS,

BLUEFREE,

PRESIDENT;
and cherries:
The fruit we produce is stored under professional conditions using U.L.O. chilling system . The farm is equipped with a Greefa Sorting System which enables the fruit to be sorted to an efficiency of 5 mm. The fruit is packed as follows:
7 kg, 1 lay tray cardboard containers

12 kg, 2-ply cardboard containers

12 kg, loose cardboard containers

and, as standard in plastic crates of 7 or 12 kg.